Resolver / Digital converters (Smartcoder)
Smartcoder is a R/D (Resolver to Digital) conversion IC, which converts resolver signals into digital absolute position angle signals.
It is usable in a wide range of applications, including vehicle/robot/machine tool related applications, in combination with brushless resolvers such as our Smartsyn and Singlsyn.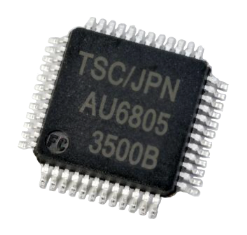 The photo is an image.
User's Manual
Features
・Adopts R/D conversion based on a proven digital tracking system
・Low cost, small size and light weight
・Satisfying fail check functions
(1) Abnormality detection
Capable of detecting abnormal resolver signals, breaking of resolver signals, abnormal R/D conversion and abnormally high temperature of a IC
(2) Built in self test
Conducts a self test on R/D conversion and abnormality detection
・Realization of system/cost reduction based on all-in-one concepts
(1) Integrated with an excttation amplifier (Output current: 1 OmA rms/20mA rms)
(2) Integrated with an operation clock
・Enhancement of functions corresponding to various applications
(1) Requires no phase adjustment to excitation signals (Allowable range: Within土45゜)
(2) Variable setting of controlling bandwidth (fBW) (Selectable from 7 types of fixed values or automatic adjustment)
(3) Capable of digital conversion of linear hall IC signals and R/D parallel connections to resolvers
(4) Output redundancy (Triple redundancy-Parallel/Pulse/Serial output)
Specifications
| Model | AU6805 |
| --- | --- |
| Resolution | 4,096(=212) |
| Tracking rate | 240,000min-1( When fBW is fixed.) |
| Convers1on accuracy | ±4 LSB |
| Max. angular acceleration | 3,000,000 rad/sec2(When fBW is automatic adjustment.) |
| Settling time | 1.5ms(When input step is 180゜,and fBW is automatic adjustment.) |
| Output response | ±0.2°/10,000min-1 |
| Output form | 12bit binary code Positive logic parallel+ A,B,Z + Serial 1/F |
| Power requirement | +5V±10% (45mA: When the excitation amplifier is set at 10mA rms.) |
| Excitation power supply | Integrated with a constant current control method excitation amplifier (10mArms / 20mArms) |
| Outline | 48pin LQFP(7×7)、Pin to pin: 0.5mm |
| Operating temperature | -40~+125℃ |