Absolute Encoders(Single-Turn)
◆About Absolute encoder
Absolute encoders output the absolute value of rotation angles.The encoders are used for position control of servo motors mounted on machine tools or robots. As shown in Figure 2, rotation slits are lined from the center on concentric circles. Slits indicates binary code strings of 2 pulses/rev from the center.Multi-turn absolute encoders memorize the rotation quantity data over one rotation.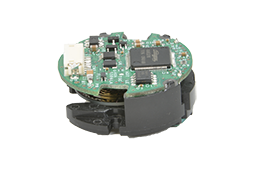 Product list
Model No.
TS5668N20
TS5710N40
TS5711N40
Appearance
Series
SI35
Outside Diameter
Φ35mm
Shaft Diameter
Φ6mm
Φ6mm
Φ8mm
Resolution
17bit/turn
23bit
Output Code
Pure Binary
Supply Voltage
DC+5
Consumption Current
(NOTE1)
110mA Max
125mA Typ
Output Form
Line Driver
Starting Torque
----
----
5.9×10-3N⋅m Max
Moment of Inertia
0.24×10-6kg・m2 Typ
0.17×10-6kg・m2 Typ
1×10-6kg・m2 Typ
Maximun Allowable Rotational
(Mechanical Spec.)
6,000min-1(rpm)
Mounting Tolerances
Radial
0.05mm TIR Max
Axial
0.05mm Max
0.1mm Max
Shaft
Inclination
0.1° Max
Mass
0.03kg Max
(Without Cable)
0.03kg Max
0.06kg Max
Operating Temp. Range
-10~+85℃
Protective Structure
(NOTE2)
Not Enclosed
Vibration (NOTE3)
98m/s2 (10G)
Shock (NOTE4)
1,960m/s2 (200G)
NOTE 1) Consumption Current: Specified value for an output circuit with no load.
NOTE 2) Regarding special specifications for the Protective Structure, please consult us.
NOTE 3) Vibration: Value which satisfies the conditions of 2 hours each for axes X, Y and Z, for a total of 6 hours.
NOTE 4) Shock: Value which satisfies the conditions of 3 times each for axes X, Y and Z, for a total of 18 times.