Step Motors / Drivers Overview
Simple positioning control by high torque and sensorless motors
Abundant lineup correcsponding to various application
About Step Motor
Rotational speed of step motor is defined by pulse rate and its rotational angle is defined by the amount of pulses. These digital signals enable open loop control, which does not require feedback structure. On the other hand the unit step angle is defined by the mechanical structure of a rotor and a stator. The step motor is also called Stepping Motor, Stepper or Pulse Motor because no unified name is established. Tamagawa Seiki Co., Ltd. unifies to call it Step Motor.
Features
Open Loop:
The rotation angle of a step motor is proportional to the number of input pulse signals and the rotational speed is proportional to the input pulse rate, making open loop control possible.
Small Size ・Light Weight:
The lineup ranges from 20mm flange size and 50g weight for both the 2-phase and 5-phase types of motor, helping customers to reduce the size and weight of their devices.
High Torque:
The step motor has a holding torque that keeps the motor stationary during excitation and a self-holding force (detent torque) that is generated in the non-excitation state. Both can control devices with high torque.
Low Price:
Because the step motor does not require a sensor for feedback and the drive system is simple, it is cheaper than the servo motor.
Structure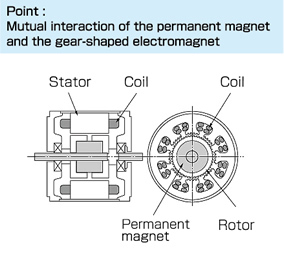 In the step motor, a cylindrical rotor rotates within a cylindrical stator. The rotor has a permanent magnet, and the outer periphery of the rotor has a toothed shape like a gear. On the other hand, the stator has a toothed iron core that roughly corresponds to the shape of this rotor (gear teeth). Wire is wound around the stator core to form a coil. An electric current is externally supplied to this coil (electric wire) to form an electromagnet, and the rotor rotates due to the interaction with the magnetic force of the permanent magnet of the rotor.
Fundamentals of operation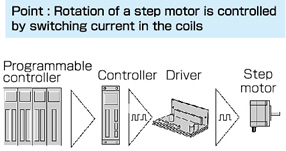 To rotate the step motor, switch the current supplied to the step motor coil to change the state of the electromagnet. There are multiple coils inside the motor, and rotation is controlled by combining the current supplied to those coils. The moment the coil current is switched, the motor's rotor rotates by a fixed angle. It is the driver's job to switch the coil current.